While you may be familiar with using spreadsheet applications like Google Sheets and Microsoft Excel to edit data, you might not be familiar with all of the compatibility that they have with other applications and file types.
One particular file type that will come up with some frequency is the comma-separated value or CSV file type.
If you are working with someone and they are requesting a .csv file, then our tutorial below will show you how to generate this from an existing Google Sheets file.
How to Convert from Google Sheets to CSV
Open the Sheets file.
Click the File tab.
Choose the Download option.
Select Comma Separated Values (.csv).
Our guide continues below with additional information on how to download a CSV from Google Sheets, including pictures of these steps.
While Google Sheets is used by individuals, schools, and organizations, you may not always be able to work on data by sharing a Sheets file with another person.
Sometimes you will need to use other applications and file types.
Fortunately, however, you can create some other types of files from the spreadsheets and data that you have already saved to your Google drive with Google Sheets.
Our tutorial below will show you how to turn an existing Google Sheets worksheet into a CSV file that is compatible with a number of other programs and databases.
How to Create a CSV Version of a Google Sheets File (Guide with Pictures)
The steps in this article were performed in the desktop version of the Google Chrome Web browser. These steps will work in other desktop or laptop Web browsers, such as Mozilla Firefox or Microsoft Edge.
Step 1: Sign in to your Google Drive and open the Google Sheets file to download as a CSV.
Step 2: Select the File tab at the top-left corner of the window.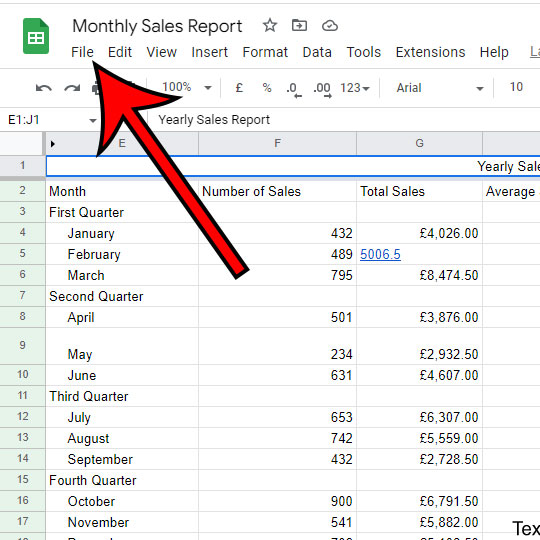 Step 3: Choose the Download option from the File dropdown menu.
Step 4: Click the Comma Separated Values (.csv) option.
The file will then download to your computer, where you will be able to open it with another application or share it with other people.
Now that you know how to save a Google Sheets file in the CSV file format you will be able ot use this technique whenever you are in a situation that requires CSV file types.
More Information About Converting from Google Sheets to CSV
When you complete the steps above to turn your Google Sheets file into a CSV file, you are going to wind up with two copies of the file.
The original Google Sheets version of the file will remain in your Google drive.
The CSV version will download to your computer as a separate file.
Any changes that you make to either file will be separate from the other file. This means that if you add data to the Sheets file, that data will not be added to the CSV file.
The CSV file type has a very limited amount of formatting options. Nearly any custom formatting that you had set up in Google Sheets will not be included in the CSV version of the file.
You can upload CSV files to Google Drive and open them in Google Sheets. Simply go to https://drive.google.com, click the Create button and choose File upload. You can then select the CSV file and wait for it to upload.
Once the file is in your Google Drive you can double-click it to open it with Google Sheets.
The other file download options in Google Sheets include:
Microsoft Excel
OpenDocument
PDF
Web Page
Comma Separated Values
Tab Separated Values
Matt Tita love writing about Google Sheets and Microsoft Excel. He has been creating tutorials for these applications and many more for over 10 years.