Changing the default font in Excel for Office 365 is a breeze. Start by opening Excel, navigate to the 'File' tab, select 'Options', and in the 'General' section, choose your desired font from the 'Use this as the default font' drop-down menu. Once selected, click 'OK' to finalize your choice. Customize your worksheets to reflect your style or branding guidelines effortlessly.
Let's face it; we all have our personal favorites when it comes to fonts. You might adore the sleekness of Arial, while your friend might be a huge fan of Times New Roman. But, what if the default font in Excel isn't your cup of tea? Well, don't you worry! Excel, being the dynamic tool it is, allows you to customize the default font to match your style. So, whether you're using Excel for Office 365 for some serious number-crunching or creating nifty charts, it's time to jazz things up a bit. Let's dive in!
Related: How to Download a CSV from Google Sheets
Understanding the Why and the How
Why Change the Default Font?
Excel, by default, presents your data in 'Calibri'. However, for various reasons like brand guidelines or personal preference, you might want to switch to another font. By altering the default font, every new worksheet you open will have that preferred font, making things easier and more consistent.
The Step-by-Step Guide
Opening Excel: Sounds simple, right? Fire up Excel from your Office 365 suite. Sometimes, starting can be the hardest part, but not here!
Navigating the Ribbon: At the top, there's this cool thing called the 'Ribbon'. Look for the 'File' tab. Got it? Awesome!
Heading to Options: Click on the 'File' tab, and a list will drop down. Somewhere towards the bottom, there's 'Options'. That's your golden ticket.
Customizing the Font: In the Excel Options window, head over to the 'General' section. You'll find the 'Use this as the default font' drop-down menu. Click on it, and a world of fonts will open up to you. Choose your champion!
Finalizing Your Choice: After selecting your font, don't forget to hit 'OK'. You know, to seal the deal.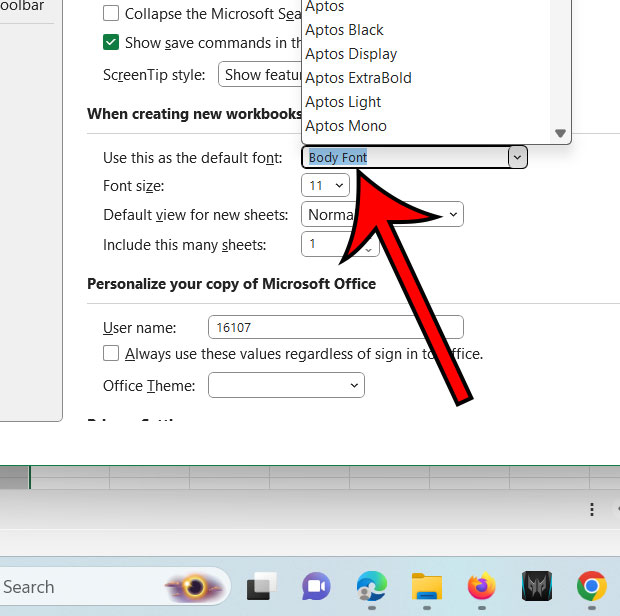 Pros of Changing the Default Font
Personal Touch: Your worksheets will have a personal touch, reflecting a bit of your style.
Branding Consistency: For businesses, it ensures that every document aligns with the company's branding guidelines.
Cons of Changing the Default Font
Compatibility Issues: Not every font is universal. If you share your worksheet, the receiver might not have the font installed, leading to formatting issues.
Overwhelming Choices: With so many fonts available, you might end up spending more time choosing than actually working!
Concluding Thoughts
Changing the default font in Excel for Office 365 is like changing outfits. Sometimes, you just need a fresh look to inspire creativity and efficiency. Just remember, while personalization is fun, it's essential to consider functionality, especially if you're sharing your work. Now, go ahead and give your Excel that makeover it deserves!
FAQs
Can I change the default font size too? Absolutely! Right below the font dropdown in the 'General' section, you'll find an option to adjust the font size.
What if I want to revert back to the original font? Easy-peasy! Just follow the same steps and select 'Calibri' or any default font you fancy.
Will changing the font affect my older worksheets? No, it won't. This change will only apply to new worksheets you create thereafter.
Can I set different default fonts for different worksheets? No, the default font you set will apply to all new worksheets. However, you can manually change the font in individual worksheets.
Is there a way to see how the font looks before setting it as default? While the 'Excel Options' window doesn't offer a preview, you can quickly type something in Excel to see how it looks in the desired font before making it default.
Matt Tita love writing about Google Sheets and Microsoft Excel. He has been creating tutorials for these applications and many more for over 10 years.